Eat My Shit From The Floor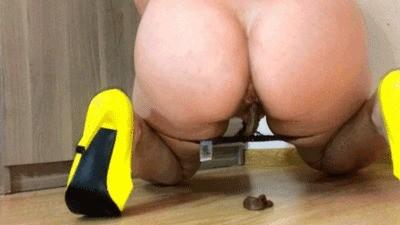 My slave was waiting for me in the toilet all day and he was very hungry. I took him out of his usual place and made him to kiss my dirty feet. He was very excited and pleased when I came home. He had to lick my shoes to shine before I feed him with my surprise that I prepared for him. I let him look at my ass, when I'm shitting on the floor. I know that he is very hungry and wants to eat my delicious shit. But first he must clean my shitty asshole. I use his tongue instead of toilet paper. When he finished his work, I allowed him to eating my feces. He took my smelly shit from the floor in his hand and begin to lick and swallow! He was very grateful to me and wants to serve me again!
Zelda's Bowel Staining Ass Splacks
Zelda is back with another FUNKY Dozen minutes of Action!! Enjoy as she delivers the (s)hits in five great scenes. Enjoy as this sexy lil Mama still keeps cranking out funky load after funky load!! Enjoy as she shows off that sexy ass of hers As she squats and hovers in reverse over the bowl so you can see all the action!! Zelda has been on fire this summer, and she is back with more heat for these last days of summer!!
Princess Nikki Champagner 05
Princess Nikki stands on a table and peeing all over the table and her feet. The slave has to lick her feet clean!