Farts & Caviar Party With My Slave By Mistress Antonella
Mistress Antonella is so pretty with her black leather trousers, black corset and black stiletto. The slave of Mistress Antonella is laying down on the floor, he wears a white latex mask.Mistress Antonella excites her slave. Then, she steps over her slave, in doggy position in order to allow him to smell her ass of goddess when she fart, her farts excited her slave a lot and he wanks himself.After that, she takes off her trousers and gives to him, her caviar directly from her goddess's ass to the dustbin's mouth of her slave.
Spanking Her Ass And Piss On It
Spanking her Ass and Piss on it (JJ000852)
Full Body Of Godess Shit And Cumming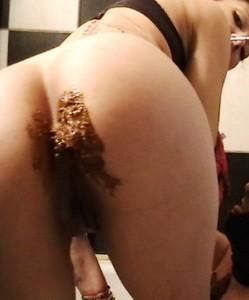 Godess want today to see a cumming from her slave. For that she put the slave in the bath tub and order him to wait until she will pee in his mouth and shit through her pink panties. With her huge shit flowing to his body, the toilet slave wash his body, smelling her panties and begun to stroke his cock until he cumm.