Big Pile In The Forest
I have saved for several days to poop alot in the forest.
Shit And Shitty Anal
This was originally a custom video and the name 'Junchan' is used a handful of times throughout. I walk into the bathroom wearing just a bra and a short skirt. I strip off and ask you if you want to see me shit and tell you how dirty your mind is for wanting to see that. I push out a big pile right on to the floor and show it to you. I tell you how much I love shitting in front of you. Then I ask you if you want to stick your cock in my ass. God you're so naughty! Ok, please put your cock in my dirty asshole. I fuck my ass with a very realistic 7 inch white dildo, moaning with pleasure and showing you the extremely messy results all around my asshole and on the dildo. So filthy!
Introducing Tina!!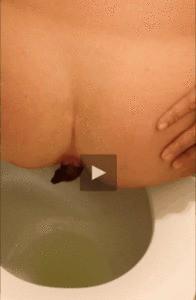 Say hello to Tina!! Another of the new recruits, this clip will have you cursing up a storm ? just like the tattoo right above her ass!! It?s as if the tattoo was reading my mind as I was like ?FUCK!!? watching some of the monsters she let out her ass in these two clips!! Two great rearview clips, one at home and one gassy, ploptastic clip at her job. Hopefully this is the first of many explosive clips from this sexy young hotty!! Ass, gas, and turd splash aplenty ? you will be sure to be screaming ?Shitfuckgotdayum?! All at once!!