Black Stocking Shit
A hot, Eastern-European girl does a strip tease to music, then while on her knees, she takes a piss and a huge shit on the floor. She speaks at the beginning of the video
Martina Friend Feces
Martina friend today received a slave, he loves to eat mistress DE feces. The hostess stamped on the bananas, slave lick and clean up the dirty soles. Eat dung slaves.
Zelda Is Just Simply…..wow!!!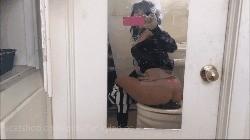 Zelda continues to amaze me each clip she puts out!! Enjoy as she keeps expirimenting with with new angles and postions to keep her EFRO action new and fresh each time!! Enjoy her funkiest half dozen clips yet!! Enjoy as she spreads that cute ass of hers nice and wide in couple scenes and shows the logs coming out nice and up close!! Zelda has fast become one of my most talked about ladies, and after this clip you gonna be Speechless!! All I can say is WOW!!! Amazing how such a beautiful ass can push out so many monsterous disgusting logs!! Enjoy as she fills the Bowl repeatedly in all 6 Clips!! She even left a monster bogey all over the seat!!!