Urine In Nylon And Pressure In Rubber Boots
I'm standing in my bathroom. on me nylon with a hole on the crotch and in rubber boots. I show close-up my pussy. I pee a strong stream. I stand in the pose of a dog and my friend pisses on my back and ass. I am delighted. I play in the urine. Now I tread with my big rubber boots a member of my friend. he likes it and a member quickly increases in size.
Maria's Strainy, Rainy Saturday Dumps!!
Maria is back with three great new clips! She had an upset stomach, Enjoy as she comes back for three different dumps from over the weekend. Just when she thought she was done, she had to come back for more!!! Enjoy watching this dominican cutie in over 15 minutes of grunts, plops, and strains!!
Francesca's Human Fertilizer Pt. 2!!!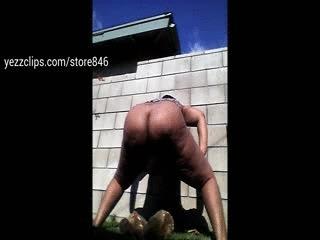 Francesca is back once again with another delicious outdoor adventure!! Enjoy as she 'waters' the grass in one clip and then comes back in the second with some of her Juicy Human Fertilzer!! Damn that ass was looking so phat and juicy in this clip!! and boy were some monsters coming out of it!! Francesca once again is back with another great outdoor clip!! Wonder if she plans on growing apples with the 'apples' that fell out her ass? lol only time will tell!!