Mistress Roberta – Big Fat Shit And Lots Of Pee For Breakfast-pov
Today i have prepared a delicious creamy and plenty breakfast first the pee as always alot and after the poop that was very creamy and flowing in fat pile of shit going in the toilet so you can eat it .
Sensual Shit Slave. Part 1
I am absolutely perverted, passionate shit eater and shit lover, it is a torture to spend day without my shit in my pussy or in my stomach.Entirely perverted I let myself go completely whe it is about shit, vomit or slutty behaving. I adore to become dirty inside and outside, for this new video I have bought a lot of new toys so I could fuck myself completely and hard.Shit on me, fuck me hard
Introducing Tina!!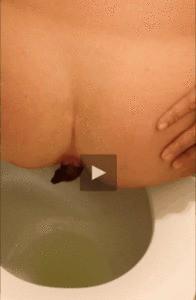 Say hello to Tina!! Another of the new recruits, this clip will have you cursing up a storm ? just like the tattoo right above her ass!! It?s as if the tattoo was reading my mind as I was like ?FUCK!!? watching some of the monsters she let out her ass in these two clips!! Two great rearview clips, one at home and one gassy, ploptastic clip at her job. Hopefully this is the first of many explosive clips from this sexy young hotty!! Ass, gas, and turd splash aplenty ? you will be sure to be screaming ?Shitfuckgotdayum?! All at once!!