Nikki And Christina Pee On Car
I am looking at Christina's phone and find a picture of my boyfriend! So I pull her face to the car window, make her spit on it and lick it off. But she soon get very angry with me, and pull me to the window to lick my own spit. We soon realize we are both pretty mad, and the car is the best place to place our anger! We continue to spit on the car window, and Christina think it is time to pee as well. She pees a really nice stream. To show our anger furthermore, I also need to pee, and give the car some of my golden shower to consummate. Then we both rub our sexy tits on the window, where we just have peed and spit a lot. Christina need to pee yet again and give one more shower for the car. But I am still upset with her pictures of my boyfriend, so I make her lick the spit of my piss covered window, before we both agree that the car is our bitch!
Custom Video Scat Goddess
this video was a custom request from a nasty boyhe wanted me to degrade his nasty ass and piss and shit on him even tell him how i would fuck his lil tight ass hole with my strap on this is a dominating video lil sissy boy
Toilet Training With Cbt And Beating Before Feeding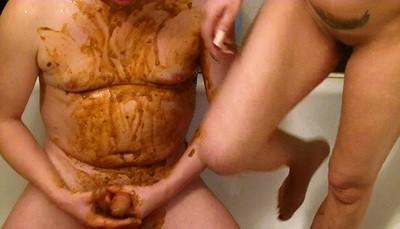 An enormous Diarrhea was prepared for today by the Godess. She call her toilet slave to arrive at her dungeon and she was dressing in a seethrough catsuit waiting for him. Before she fee him, she use him for her pleasures, she beat him, CBT, slapping him, spanking him, order him to smell and kiss her pussy and asshole, order him to lick her ass and her pussy and to eat her Diarrhea and drink her piss !!