Dancing With Poop In Mouth And Eating Shit!
Half an hour of mad, cruel eating of poop!!!Crazy bizarre dancing and swallowing!(Dancing with poop in my mouth)Hello all my lovely! I'm Laura!I finally learned how to swallow poop properly! ? And with a smile on his face:)After filming the previous clip, I learned to swallow poop well! ?And now I write from myself with a clear conscience.Short about itself: am sports – bodybuilding.I like everything unusual and perverted.I used to take hormones and anabolic steroids for results and now I'm taking poop and drinking urine instead.:)I'm a very perverted woman.:)I love crazy, kinky sex!In this clip:1) I very plentifully a Poo and it all shot very, very close-up!2) I dance with a huge poop in my mouth… (Madly and depraved) I Think everyone will like it.3) I'm eating poop one by one…4) I swallow poop with a smile on my face! ?5) Shit in this clip very many! ? but I eat absolutely all the poop!!!And finally I can say that no one else can swallow and eat real poop like me!!!… ?
Mistress Gaia – Training Slut To Eat My Shit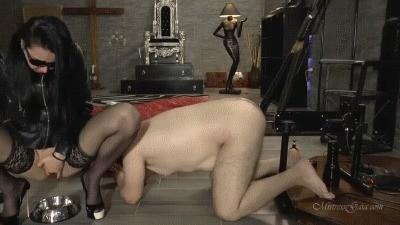 I have a new slave who contacted me and said he wants to be trained in eating my shit. I brought him to the dungeon and this is his first training session. We'll see how he gets on. I'm also going to use the fucking machine on him. He says he wants his ass broken in, and he wants to enjoy being ass fucked. I get him to kiss my shoes before allowing him the luxury of anything else. He's a bit stupid, and I need to make sure he understands what I want from him. I order him to fetch the dog bowl, It's going to be used for him to enjoy eating my shit. I then get him i position for the fucking machine. He's going to suffer while he's eating my shit. I then put a little of my shit into the bowl, just enough for now as he's in training. I tell him to get eating, and I turn on the fucking machine. He has to empty the bowl or I'll punish him. When he's finished, I see him touching his cock. So I tell him he can cum and he then has to lick all his cum off the floor. The stupid slave can't cum, he's wasting my time and making me angry. I'm going to leave him on the fucking machine all day. He has to remain in that position until I return and decide on his further punishment…
Hot Strip And Soft Shit
I make a very hot Strip for you!! In my sexy Nylons,Dessous and High Heels i make you so horny…..then i must shitting,i knees and he comes soft and thin shit,too much!! Ah,my ashole want licking clean!! Want you eat the soft slave from your sexy Mistress Candy?