Messysquirtshit
Hot farting and squirting messy shit !
Roxy Shit And Puke Feeder
Princess Roxy shits in a bowl and feed the slave. Then she pukes together with Lady Lisa in the bowl and orders the slave to eat also the vomit.
Those Who Do Not Learn To Have To Swallow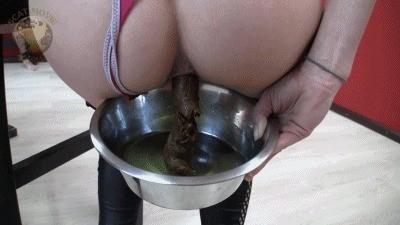 Our British slave can not speak perfect my German language. He didn't understand it always still be unintelligible babble is bugging me.He should be sure to learn perfect German to understand my instructions immediately. Now he has lost my favor and I do not care that he had never served as a toilet.He is firmly tied to the cross and will swallow everything we stuff it into his mouth. Miss Jane had straight, and filled a dog bowl with shit and piss.The full shell waste had to be eaten then completely by him. First we stuffed him shit drenched in pee in his mouth, then he could drink the rest straight from the bowl.As long as he does not speak perfect German, I'll feed him again mercilessly with lot feces.