Shakin It, Then Taking Shits!!
Sugar Hill is back with some Brand new FUNKY loads!! She has so much fun making these naughty scat clips for her fans and it's evident in each clip!! She was making that big monster ass wobble wobble, and shake it, shake it to begin. In the second scene, enjoy as she takes a quick pause from shaking that azz to literally slide her panties to the side and let loose on her entrance foyer!!! Shit squirted out everywhere!! Then she put the panties back of her dirty ass to let them simmer for a lucky fan…When she though she was done, even more came out!! Then in another scene she takes the mess to her bedroom, Where she has another shart explosion that gets all over her floor and appliances! What mess! In all enjoy Five new ass shaking, messy, runny, splattery clips from one of the phattest asses in the game!!
Mistress Anna – Big Lump Of Shit
I have to go to work, but I also have to take a shit, and I don't feel like holding it all day. Especially when I have a living toilet serving me. That way not only do I get to take a dump whenever I feel like it, but I also feel immense pleasure from its suffering. Arousing the toilet is always a plus, because it feeds on my shit like I've given it the best cake in the world. I kick, what used to be a human's balls, spit on it, make it clean my shoes, and even allow it the privilege of worshipping my perfect feet. That alone should be enough reward for it to do whatever I want. After that it's time to remind it why I even bother so much with it. Eating my waste is all that it leads to. Dehumanising it and turning it into the perfect shit eater. As always, I need very few words, for it to obey and do exaclty what I ask. Lubricate my ass, take the shit into its mouth, and just staying there like a mindless object. After all toilets don't move. I could leave it like that for the whole day, and it would do it gladly. But enough fun for me and it. It's time to go to work, and I have one final thing to do. Remind it of it's place in life. I kick it some more and spit on it, while explaining what it is to me. It's so good being me- a Goddess.
Pee In His Mouth Cum In My Pussy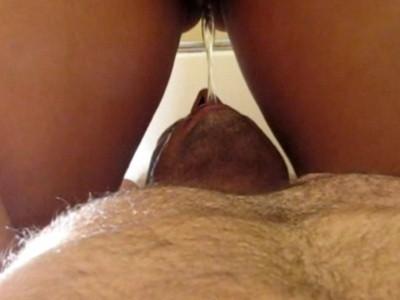 After emptying my bladder in hubbys mouth, he stands up to fuck me still dripping with my urine:)