Mistress Kennya And Friend – Pussy Licking And Warm Piss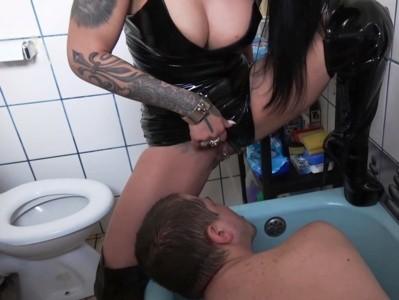 Today toilet slave had a busy day : he must obey orders from 2 romanian Goddesses. First he submit to a perfect lady, who use his face, mouth, cock and balls for her pleasure, beat him, cbt, and face sitting….Then he must arrive at Mistress Kennya dungeon for a toilet slavery scene. He goes to bathtub, and first receive a cold shower from Goddess, followed by a GOLDEN SHOWER, right from her perfect pussy. Mistress order her toilet to wash his mouth, face and body with her piss and go home like that, with her smell on him !
Redhead Teen Cherry – Born To Eat Shit!
You have probably never seen such a devote young girl, who is even into shit eating from girls and even guys…watch this crazy 3some….
Stinky Potty In Bowl
Going pee and poo in a bowl.