Red Thongs And Shit Eaten
In this video a lot of red and a lot of shit, which, of course, I eat in the most perverted way. First, I will caress myself and send a huge piece of shit, pushing a strip of my thread to the side … then I wipe the rest of the shit out of my ass with a striped thread. I'll put a piece of poop into my lustful pussy and wipe the rest of the shit with straps again, and with the remaining shit I will gladly drink and feel its taste in my mouth. I eat my shit feeling it in my pussy and also taste it in my mouth … it makes me horny.After that, I will push the shit out of my pussy and immediately send it to my shitty mouth, spread it on my teeth with a thick layer and will chew with pleasure.When the shit is eaten, I take off my thongs and fuck myself with a dildo and put them in my mouth, and then I put them in my pussy and pull out, getting a squirt orgasm))
Miserable Toilet Slave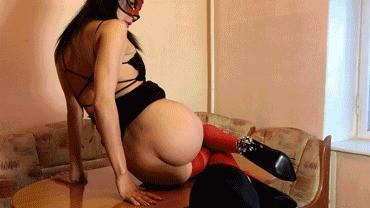 Allow yourself a luxurious video from Mistress Emily. Enjoy the taste of humiliation and my delightful shit. I called the slave and told him to lick my shoes, clean it to shine with his tongue. He had no choice, because I fully mastered him and made him my personal toilet. Now he will dedicate the remnants of his life to serving me. In this video you will see my sexy luxurious body, but I do not allow a slave of contact with me. Only as a toilet, but no more. He knows his purpose. Now he licks my ass and suffocates from lack of air. He breathes only my ass and only occasionally I let in air. Then I fill his mouth with my shit and control the process of completely eating. Finally I spit in his cheated mouth. This is my full toilet and if you want to be in his place, then you must first be ready to eat my shit! Today and always.
Mistress Roberta -huge Shit And Double Pee -pov
Today my slave i wear the red wetlook pants and a nice black top took also my potty chair for preparing your breakfast i take the camera right next to the holes so i splash it a bit with pee ? but today you have an real nice close up seeing how much i shit from real close and the double pee .Today you will be a happy toilet slave having all that shit and pee to eat .