Mistress Anita – Bisexual Threesome Party In 2017
Mistress Anita just doing today her last movie on 2017 ! Another perfect movie for the end of this year, with 2 of her best bisexual sluts. They come to her place and they were ready for worst. Maximum humiliation, bisex action, cock sucking, ass fucking, pissing in mouths and shitting a little diarrhea ….those are just a few actions from her last movie. At the end they cumming for Goddess dirty pleasures !
Mix Compilation Nr 23
THIS IS THE OUR NEXT COMPILATION WITH ONLY SCAT ACTION FROM ANOTHER 6 MOVIES ( YOU NEVER FIND THEM IN OUR OTHER COMPILATIONS FROM 1 TO 22), DIARRHEA AFTER DIARRHEA ACTION, CHEWING AND EATING GOOD SHIT. BEST SHITTING GODDESSES FROM SITE, THEY CAN SHIT MANY TIMES/DAY. SOON COMPILATION NR 24 !!! Soon NEW CLIPS WITH ROMANIAN GODESS LUNA WITH FULL SCAT TRAINING !!!
Francesca's About To Burst!! Pregnant Peeing, Pooting, And Ploppage!!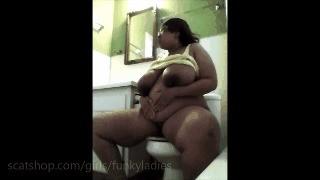 Francesca is back!! She?s been gone for a minute as she has been expecting her first born. But before she gave birth to her newborn, she decided to drop a few pieces of shit off in the pool for all of us to see!!! Enjoy as she pees and lets out some Massive Farts. She was a little constipated in a few clips, but once she found sweet relief it was floodgates open!! Francesca hits you with her usual great grunting and straining. The Farts are a epic as ever as well!!! Those already massive breasts of hers are even fuller now! Enjoy as she rubs on those massive jugs as she tries to squeeze out the farts and logs! A great set of clips from Francesca.