Mistress Roberta Feeding – Socks In Shitty Mouth
Mistress Roberta have a custom request from a fan : she must use again her dirty socks and humiliate her toilet boy with them in any way possible. She begin with a teasing with them, put a sock on his cock, make it bigger, harder and then she order him to suck and lick her socks, soles and legs. After the toilet worshiping her socks, he will be obliged to receive her daily meal : a shitting Diarrhea right into his mouth then chewing it with socks in mouth.
Last Drops For Slave
He can not have enough of the piss :))))
A Few Days In Toilet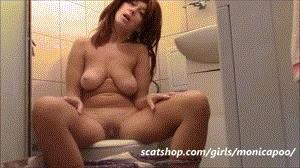 Three days of my dirty toilets. In the first video I'm naked piss and shit. In the second video, I get up in the morning with abdominal pain, I have constipation. The third video this relax in my toilet with pee and poop.