Enslaved Client Drinks Piss! – Part 2
The ladies take turns rubbing their crotches on the victim's mouth! Not long after, they take off their panties and start feeding him with their pussies! Despite how rough they are handling him, he still enjoys the naughty deed! However, that changed not long after since the finale of the two ladies involves sitting on his body and stomping all over him! They only stop when it is clear that he has succumbed to defeat!
Scat For Sale
after the shooting Lady lisa still need to shit. No slave!Well she shits for you in a box. At the end she hold her private mail adress into the cam. you can write her and make a proposal for her delicious shit!
Sugared Dominance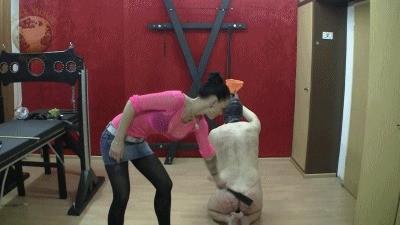 As I command via telephone, my studio toilet crawls to my feet with a feed hopper in his mouth. So it works! After peeing I had some fun. The toilet is too fat, so I as punishment fed him up with sweets, until he could not take any more. Content: Pee, ashtray games, whipping, spitting, feeding