Reality Tv Show Pissing & Shitting! – Part 1
They take turns sitting on the men's faces and having their cunts and assholes eaten. They take turns sitting on the human toilet bowl to eject pieces of scat that the men will have to eat.
Ms D's Newest Splashes!
Ms D Returns with more of her usual, Great farts, Great Grunting and Straining, and most importanly, great logs!!! Enjoy as one fo the FUNKYiest, most consistent deliver yet another great set!! Four great clips in this nearly Funky dozen!
Aria's Juicy Booty Gps!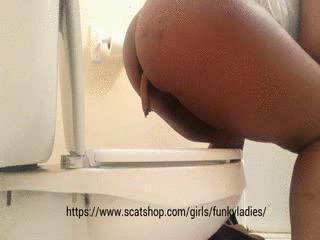 I hate picking favorite when it comes to my site, but every time I get a new clip from Lady Aria she shoots right back to the #1 slot!! She has it all. Big juicy chocolate booty. Sexy Grunting, Pooping and Straining and dialogue! Wonderful noises and poop action in her clips. This is by far if not my favorite girl – she's top 5 dead or alive!! Love how she spreads those ass cheeks to squeeze out the turds!