New Slaves Trained And Fed With Feces!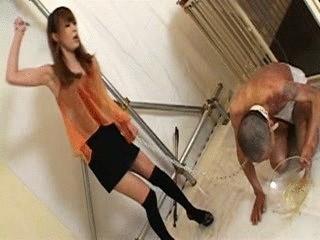 Two men befall victim to a group of dominatrixes! They are grabbed from the street and then brought inside a dungeon where they are stripped of their clothes and repeatedly whipped to submission! Eventually, they are placed in a cellar where they are given their dinner! Unfortunately for them, their meal isn't going to be pleasing! A bowl is placed on the floor and then the women take turns peeing and defecating inside of it! After they filled it, they order the men to dig in! At first, they are hesitant, but being grabbed by the hair, they eventually take the bowl and start gulping down its contents until nothing is left!
The Face Slapping Support Part 6 Andrea
We put the Man into a Barril and support the Feeding with Bitch Slapping him. The Problem however, Karina slaps so hard, it hurts like Hell. Our man totally freaked out and one would ask, what is worse for him, the Brown Shower or the Slapping. The he also gets some Nasty Surprises, which causes Laughing and Screaming. He bites, screams, beats inside the Baril and at last cries like a Baby. No Mercy here and much less from Karina ! Party is on !English Subtitles
Sinnamon's Dropping And Plopping Shit Like It's Hot!!!
Sinnamon is on a roll right now ? no pun intended!! She is back with another hot clipset!!! Enjoy as she returns with another Great four clip set as she Twerks, shakes, squeezes, and shimmies while peeing and pooping!! This thick mama is sexy as hell!! That plump little bubblebutt of hers is on full display in these clips as she gets it poppin and plopping simultaneously!! Seriously you all need to stop sleeping on my girl!! And the serious amount of peeing and plops in each clip will seriously have you entertained!!