Mistress Roberta – Worship My Natural Feet Before Breakfast -pov
Today my toilet slave i don't care if you like or not my feet today you will worship my natural feet in order to receive your tasty breakfast, first the pee as usual and after the poop, strong like sosages, and in the end a bit soft like diarrhea, tasty and the way you like it, enjoy!
Pissing In His Mouth
Pissing in his mouth (JJ000601)
Hard Shit To Digest Part 2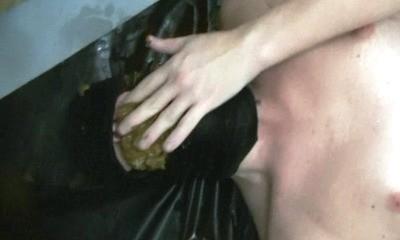 Continuing my degradation and humiliation…. mistress needed to change something in my behavior and she get a crop to can show me what i will receive if i don't eat her shit and drink all her pee. She beginning letting me worship her gorgeous pussy lips, trampling me on my chest, pushing her foot in my mouth deep, filling my mouth with more than 1 litre of her fresh nectar …spanking my body-face-cock and balls with her crop, shitting a huge mix of diarheea and shit then order me to be a good toilet and eat all her shit slowly while i begin strocking my hard cock. She order me to make my cock shitty and continue my humiliation peeing and shitting more on my chest and cock – part 2 . file is .wmv with sound !!