Tongue Fuck Ass Orgasm
You are in for a real treat! This video contains ass licking scenes from the first Eat My Ass video including the scene where I shit into a bag on top of a previous frozen load. I finish this video off with a very interesting poop, keep reading…When you are a girl having your dirty and smelly ass licked & washed by a slave's tongue it's one of the best feeling in the world! For me personally it feels so amazing I start to orgasm without even touching my pussy! Filmed from two great angles so you can see my face and body movements as my ripe ^smelly ass is licked & tongue fucked deep from behind. See the contraction of my orgasm pulsate through my entire beautiful body.But it gets better. See the second angle of filming as well. Filmed from beneath so you can see my slave's tongue licking, sucking and tongue fucking my asshole deep. Throughout the scene you can see my pussy started to swell from arousal and get soaking wet. With my final multiple orgasm you can literally see my white girl cum being pumped out by my orgasm contraction into full view for you right in my pussy!When my slave is finally done licking my ass watch how my orgasm continues! I was still on all fours and you can see my body contorting as my orgasm keeps going by itself. Yes…..this girl had a GREAT TIME!Remember that interesting poop I was telling you about? Well, I pooped into a clear plastic bag in full view for you. Not just any bag. If you watched my other video called "Pooping And Fingering My Own Ass" you would've seen after playing with my own huge poop I put it in a bag to be frozen. In this video I took the shit in this video in that very same bag, right on top of the previous frozen poop. It was a very big bowel movement, I lost count of how many creamy turds I pushed out in this one. I'll have to make sure Chanelle will be very hungry during her visit because she'll have a LOT of shit to eat between me and Nandie.My female toilet slave Chanelle will be here in a few days and she will have to eat BOTH my bowel movements. But that's not all! She will be eating SEVEN of Nandie's bowel movements along with mine! A toilet endurance test if you will. That feeding video will be coming soon 🙂 Keep an eye out for Lesbian Toilet 9 (coming soon) to see how I'm going to make my female slave eat this as well as SEVEN loads from another girl. This video as well as "Pooping And Fingering My Own Ass" is a must as it's these bowel movements Chanelle will have to eat in Lesbian Toilet 9 :-)Be sure to check out all my other videos in my store xoxo
Silicone Goddess Antoanella – A New Scat Feeding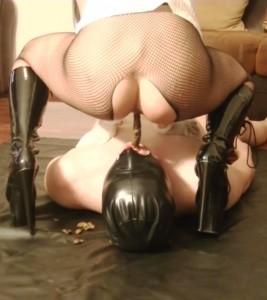 Goddess ANTOANELLA is one of our Best Romanian Goddesses from shop ! A PERFECT GODDESS WHO HAVE PERFECT SILICONE TITS !! She love to use human toilets in her room and she LOVE TO ORDER THEM. Today she love to destroy slave will, mouth and asshole. She make her toilet slave hot, giving him some presents and choke him. She order her slave to cumm and he cumm a lot, beeing able to eat it all from the floor. She shit in her toilet mouth and take a spoon and feed her slut. Enjoy and prove Silicone Goddess that you are capable also to chew, eat and swallow also her Kaviar as her toilets doing ! She can do a slimmy diarrhea, or a big turds, all for her toilets meals.
Scat Show In Pink Tights And Brown Pantyhose
In today's show you will see a slow shit in pink leggings, then I will shew fucking ass, and I will shove a dildo into my horny ass. The second dildo deep throat. Then in my mouth from the dirty shit pantyhose and masturbate in the ass. Then shit on my tits and pussy and I be very excited, I need to shit in your mouth and chew and swallow shit. The excitement is great, I have to put pantyhose on his head I felt more smell my shit, yes, I like it … I love shit and orgasm with them!!!