Mistress Roberta – Painting The Balls With Shit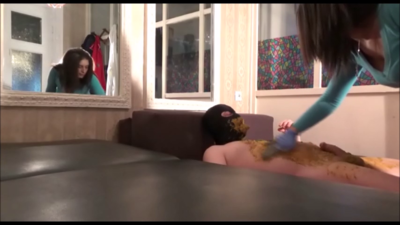 Today my slave will be more and more covered in shit because today is the easter and my slave will have the eggs -balls painted with shit today and to do that first i shit in one pantyhose sock and i tease my pot with the shit inside the sock and after i take it out anf fill his body and balls with shit and make him a nice costume on for this easter. enjoy.
Bonita De Sax – Jara Jay: Double Piss Humiliation
We had a pretty big porn shoot in Leipzig, Germany. I pulled the two star guests Jara Jay and Bonita De Sax in the bathroom to give 'em a long piss shower. Piss swapping and swallowing, some brain fuck for my two girls… Yeah, we had fun!
Shitty Panties
Today I was having friends over for lunch so I needed to give my apartment a quick clean before they arrived, I'd felt I needed to go to the bathroom for a while, but decided to hold on until I'd got everything else done.As I'm cleaning the kitchen floor, I tell you how the urge to poop is getting even stronger. With my hand holding my tummy, I go faster at the cleaning. Suddenly I can feel it coming, searching it's way out!I know there's no time to get to the bathroom and instead squat on the floor and let the big warm mess fill my panties.Mmmmmm it feels so good to finally let it out, I give a few more pushes and totally fill my white panties. I put my hand behind me and feel the load sat snugly inside.My pussy begins to tingle and I'm feeling so horny at what I've just done. Turning back around, I sit my messy butt on the clean kitchen floor that is now also covered in a big puddle of pee.I sigh with pleasure as I feel the warmth of the pee and the mess in my panties spreading all over my butt. With my pussy throbbing I know I need to cum.Picking up my dildo, I rub it all between my legs and over my dirty smelly bottom before pushing it down the front of my panties and begin fucking myself with it.I tell you how good it feels as I begin to pump harder and faster. I change positions a few times, until I can feel an orgasm building. Mmmmmm I moan to you how close I am before bursting in to an amazing orgasm!Realizing how soon my friends are going to be arriving, I wipe up the kitchen floor and then run to the bathroom and jump in the shower.