2018! Princess Mia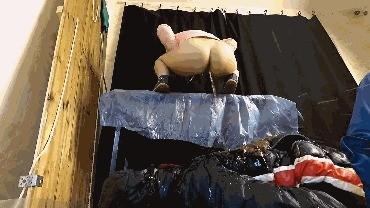 Princess Mia has accidentally met her ex-boyfriend on the street. And she has suddenly had a plan how to humiliate and kill his self-esteem. She approached him and invited for a cup of coffee. The guy agreed and did not even know what was coming. But as soon as they came to the girl's house, she immediately grabbed his neck and put it into submission. "You'll pay for everything, stinky chump!", – she yelled at him and struck several times. She laid him on the floor, tied his hands tightly and began to undress. Then she poured her shit over him and clysterized right on this loser! The girl laughed at him and this game gave her great pleasure. She smeared all her shit on his clothes and at the end, just pushed him out of the house as such.
My Friend Sabrina Want To Sell Her Poop Too
Sabrina has made the video for promoting her poop for sale on Buysexygirlspoop.com 🙂
Kitchen Wetting And Making Tomato-basil-pee Sauce To Go With Pee-spaghetti
I show you my kitchen and pee everywhere in my kitchen. I pee in a pan with spaghetti und stir it and then I go on and wet my kitchen some more. I also pee in the oven. Then I pee on tomato and peppers and make a sauce from them with more pee and basil. I serve the dish and pee some more golden sauce on it before eating it.