Husband Helps Wife Poop On Table! – Full Movie
Full Movie – Being together for a long time, this couple is already bored of their usual sexual activities! So, in this situation, the woman tells the guy what she wants and he doesn't hesitate to help! In the living room, the sweetheart takes off her pants, leaving only her stockings on herself! The man is then fast to grab her crotch and rub her clit! Eventually, she takes off the last remaining piece of garment, sits on top of a table, and then masturbates her pussy! It doesn't take long before she gets some help from her husband who finger fucks her fast and rough! By the time she reaches the epitome of her urges, she lays out a piece of cloth on the table and then bends over! The guy then finger fucks her asshole, making it easy for her to release one stream after the other of her poop! When she could no longer release anymore, the man is fast to hand her with tissues to wipe her butt clean!
Sweet Sapphic Spendor
sensual sexiness extreme close up pussy eating
Blondepantyhandscleanshit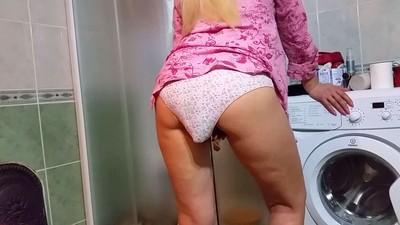 Sexy blonde is hot running shit in sexy panties and ordering you to clean her shitted feet, hands and ass!