Miserable Toilet Slave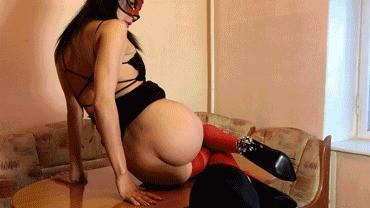 Allow yourself a luxurious video from Mistress Emily. Enjoy the taste of humiliation and my delightful shit. I called the slave and told him to lick my shoes, clean it to shine with his tongue. He had no choice, because I fully mastered him and made him my personal toilet. Now he will dedicate the remnants of his life to serving me. In this video you will see my sexy luxurious body, but I do not allow a slave of contact with me. Only as a toilet, but no more. He knows his purpose. Now he licks my ass and suffocates from lack of air. He breathes only my ass and only occasionally I let in air. Then I fill his mouth with my shit and control the process of completely eating. Finally I spit in his cheated mouth. This is my full toilet and if you want to be in his place, then you must first be ready to eat my shit! Today and always.
His Stomach Is Full To The Brim With Liquid Manure
How much can fit into the slave's stomach? Today we tried it, not only I had to pee several times. But that was us not enough, part of the test as much as he can swallow shit. The loser has to eat the shit of Miss Jane and Miss Cherie. Whether he gets obediently swallowed everything you see when you look at the film. For motivation, we played in between with his balls Golf *smile*.
My Orgasm And Shit
Fooling around in bed, I get my toys out and start playing with my toys and have multiple orgasms; once my partner sticks his finger up my ass I have to shit!He runs and gets me a bucket so I can shit off the side of the bed.