Jealous Office Ladies Ganged Up On New Girl! Full Movie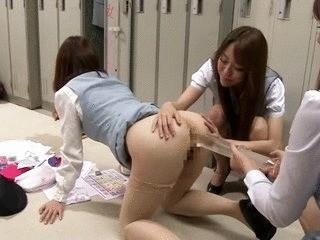 Full movie – Boss has favorite at the office and it's the new girl, maybe because she's prettier than the other girls but she is flirting with him! This displeases the other office girls who are aiming for pay rise! After office hours they ganged up on her in the locker room. They mocked her and demanded her to take her clothes off and then one by one they injected themselves enema and squirted liquid shit out of their asses in her bag and all her stuff that they took out of her locker! By this time, bosses have heard the noise at the ladies locker room. So they went to check it out, only to find their favorite girl is lying on the floor crying and naked.. not only that but she stinks of shit too which made them run away and ordered her to clean herself and get out of the office! Looks like she'll be finding a new job!
Vfex 1+2 Part 1/7
Enjoy the fascinating secret sounds of Girls farting, pooping, grunting, groaning and pissing. This is part 1/7 of the unique VFEX Series (Exhibition Trade fair) which was created in May 2014. Many natural toilet scenes on 4 toilets and in this part with 18 amazing girls. Enjoy!!
Wash Off With Piss Water
I had such a pressure on my bladder I have just pissed into the water and did the dishes washed then continue.