Lady Bella's Shit Pig-part 3.
Sexy Black Mistress Lady Bella, prepares for another session with her sissy tranny slave Sandy, by taking a huge dump and saving the shit for her pathetic toilet slave to consume later. The kinky and sadistic Lady Bella wants to transform her sissy slave into her Toilet Pig, and makes the submissive cunt, oink and act like a pig, abusing and degrading the sissy slut badly !!This clip features the sexy Black Mistress Lady Bella verbally degrading her sissy slave, who acts like a pig, and masturbates itself while oinking like a pig, the sexy Mistress starts caning the slave, spitting and blowing snot over the tranny sluts face as the fat pig masturbates itself, Lady Bella stands over Sandy's face and allows the slut to lick her wet pussy while she pisses in her pigs mouth, Bella continues to degrade and punish the slut, then gets a huge black rubber cock for the sissy fag to suck, before she has the filthy cunt eat and smear it's disgusting fat body in her shit !! to be continued in part 4.
Slave Stay On The Floor Part 3
Girls Uses Man
Obey Me! Then You Can Fuck Me!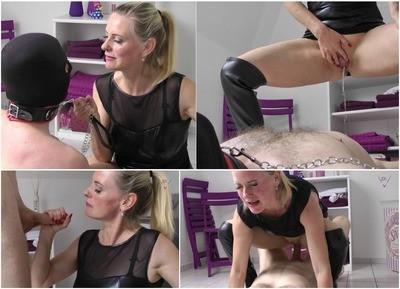 After the my piss slave in the first part swallow my piss and lick me to orgasm already bravely swallowed my piss and licked me as commanded to orgasm, I took care in the second part a little more intensively around his cock. First I blow him briefly, then I piss my warm MILF champagne over his beating and it pleases him obviously. Then his mistress saddles up and rides him off. Only one thing he can not – Cumshot! Because his performance was not yet enough. If he is good-looking perhaps next time. Are you my next piss slave!