Close Contact With Christina's Ass Close Up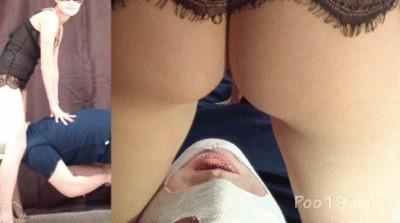 Yesterday, Christina went with her boyfriend to barbecue and brought me a big bunch of tasty shit. This time the pile was really big and smelly – I was very pleased. Christine very cruelly fed me and gave me urine!
Bimarley's Funky Debut!!
New Month – New FUNKY lady!! You know the routine!! We keep trying to bring you new ladies. This one once again is no stranger to some – especially if you like big chocolate asses like I do!! Enjoy These quick two clips done while she was attending an adult convention in Vegas. Enjoy as she drops two quick loads in the pool in her 1st two scenes for us. Look for more in the future from this Bubble Butt chocolate stallion!!
Fresh Diarrhea All Over His Face!
Wifey has a rumbling stomach and was about to go to the bathroom to unload when hubby stops her. Why let the shit go to waste, he says. Spray it on my face! So he lies down on the floor while she squats above his face, using the two tables for support. Diarrhea shoots out of her ass generously and splatters right across his face. He savors the foul liquid on his skin and licks his lips to taste it.