Mistress Gaia – Funnel Gag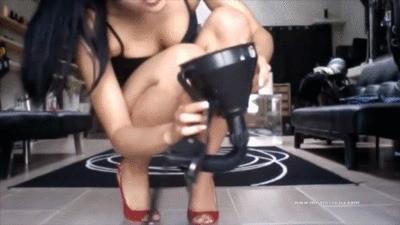 I dislike losers aren't able to drink all my pee, without missing any drop… Actually I hate that kind of slaves. So I decide to use a funnel gag with you. The right item for the perfect situation. I really have to evacuate all my pee… and now I'm sure I'll do it all the way in your mouth…
Extreme Scat Virginity Loss. Part 5
AstraCelestial team proudly presents.That day she went through all circles of scat hell, in the end we spilled on her around 10 kg of shit which we were storing in the freezer for special cases. And she lost all mental virginities she had before. She never had golden rain, anal sex, enemas, BDSM and in that day she tasted it all.Full video is more than 2 hours of instant action with tons of shit, sex and tears.
Bbw Prison Warden Scats And Smothers!
Today the prison wardens have come dressed in their own clothing for their day ruling over their prisoners. Today, the fearful BBW prison warden is ruling over her inmates. Today, unlike other days she is wearing pink lingerie and has brought with her a matching pink scat chair which she intends to use on her prisoners. Her prisoner is ordered to sit under the chair and this big warden also has a BIG DELIVERY for this inmate. The shit quickly fills his mouth and start piling out across his face. It is solid chunks of beauty but there is too much for him to consume easily. This not a bite sized serving. It is super sized! The big warden pulls on a pair of rubber gloves so she can help her prisoner consume this massive load before smothering his pathetic face under her massive ass before ordering him to clean her big dirty ass with his tongue.