Mistress Gaia – Aching Balls & Scat Lunch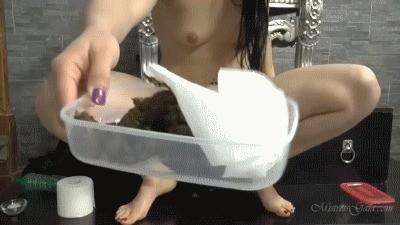 You will kneel before me as I sit on my throne. I'm going to give you specific instructions as I prepare you. Firstly, it is important to understand how fortunate you are to be beneath me as I begin. You are allowed to take out you cock but don't touch it without my permission. I will tease you and make you suffer until you are desperate to cum. I begin with a little striptease. As I remove my stockings, I can see in your eyes you would like to touch me. I continue until my beautiful body is naked. I am going to prepare a delicious lunch for you. So I piss in a bottle, and shit in your little lunchbox. However, as my slave your going to have to perform a task for me. You will get some cord and tie it tightly around you balls until they change colour, preferably purple. Then you will get a wooden spoon or similar, and beat you balls at least (forty times) until they ache. Only after that time, you may open your lunch box, and pee bottle. You now have my permission to cum. How fortunate a slave you are to have this experience with Mistress Gaia…
Nikki Eats Sandwich Slave Eats Shit
Princess Nikki eats fiest a sandwich and after eating she has to shit so she just shits at the slave laying all the time inder her ass. She wish him to swollow all her shit.this clip is originally 12 minutes long but we shoot it with 2 cams so you have the secons cam version after the clip just for free.
P – Extremal Humiliation – 20 – Hd 1280×720
HD 1280×720, time 4:58. Mistress Weronika is pissing on slave face.