Scat Donation Into The Slaves' Mouth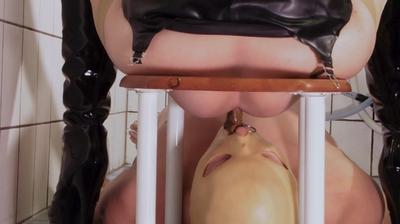 A new slave has applied to the Contessa as a toilet. First, the Contessa examines the tail and the slaves' eggs to check whether it is useful. After this examination has turned out to be positive, it binds the eggs and the tail tightly. So prepared, he must first drink their delicious natural drink directly from the source. As he fulfills this task satisfactorily, he can receive their divine caviar directly from their wonderfully shaped buttocks. Without fail he receives the scat greedily. To the reward that he has fulfilled his task as a toilet, Contessa allows the slave to wank until he come.
Francesca's Final Pregnant Plops!!
These are the last two clips Francesca Did prior to the birth of her son. Enjoy her usually great grunts and strains along with some great super loud farts and plops!! Enjoy a particularly explosion in the 2nd scene!!! Two great pregnant dumps!! Look for more new ones coming soon now that she?s finally had the baby!!!
Deep Insights For Crapping In Pussy And Asshole
Not just my asshole stretches with the shit, you can also look into my pussy while I push out a sausage.