Dominatrix Repeatedly Urinating Inside Man's Mouth! – Part 3
The dominatrix continues rubbing her pussy on the man's mouth! She takes her time and does not rush! Because of this, her bladder later gets full and she is able to urinate in his mouth again! Just like earlier, he ends up swallowing a couple of mouthfuls of her piss! Lucky for him, once she is finished, she leaves him alone.
Slave Stroking Cumming Fucking Pissing And Shitting
Slave remain alone at home today and he get instructions from his Mistresses. They all want to see him humiliate himself, stroking his cock until cumming and fucking a fake girl. And at the end, he must piss on her and put his own shit on his cock, balls and face. And of course, send the video to all Mistresses who enjoy to humiliate him …..
Log Eater 1080p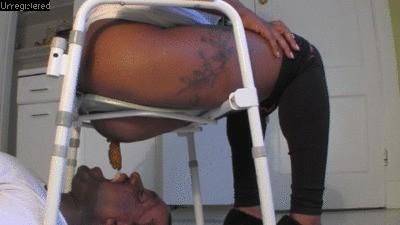 New feeder Mistress Raw Desires saw our vids and contacted us wanting to feed the toilet a hot meal out of her ebony ass. This dominant shit goddess humiliates the toilet pig and makes him eat a fat nasty long log out of her juicy ass. The toilet pig gobbles down her grade A shit and uses his tongue to clean her up after his meal. Will be available in 1080p HD 720p HD WMV, and Iphone/Ipod formats.