2018! Princess Mia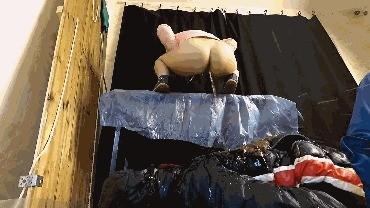 Princess Mia has accidentally met her ex-boyfriend on the street. And she has suddenly had a plan how to humiliate and kill his self-esteem. She approached him and invited for a cup of coffee. The guy agreed and did not even know what was coming. But as soon as they came to the girl's house, she immediately grabbed his neck and put it into submission. "You'll pay for everything, stinky chump!", – she yelled at him and struck several times. She laid him on the floor, tied his hands tightly and began to undress. Then she poured her shit over him and clysterized right on this loser! The girl laughed at him and this game gave her great pleasure. She smeared all her shit on his clothes and at the end, just pushed him out of the house as such.
Slave Training Fully Loaded! – Full Movie
He's willing to do anything for her, even eat her bodily fluids and wastes, just to prove his devotion. She takes advantage of his submissiveness and subjects him to humiliating shit every chance she gets. Right now, they are both naked and she's whipping his body using her favorite flogger. She squats over his head and ejects shit right into his open mouth! To make sure that he savors every morsel, she feeds him chunks using her hand and watches as he chews and takes in her foul waste!
She Dominates & Pees All Over Me! – Full Movie
As a dedicated driver, my mistress pays me a lot of money, but it's not just because of my superior driving skills. She likes me because I give in to her sick and demented fetishes. Right now, I'm cuffed to a bar, wearing a gag mask on my face. She grabs my cock and tugs it furiously, making me stone hard. She makes me lick the sharp heels of her boots then she unclasps my cuffs and makes me lie down on the floor. She hikes up her skirt and sits on my face. She lets out a stream of warm pee, which I take in my mouth to drink.