Cori's Gruntin, Ploppin, And Strainin!!!
Anybody that has followed my site from the beginning knows there is nothing I like more than good old fashioned GPS action!! That's watching a woman grunt, plop, and strain on the toilet for those that don't know!! Cori delivers all the above in these three clips!! Enjoy as she sneaks off at a friends house party to push out a stinky load!! Hope nobody has to walk right in behind her!! The facial expressions she makes while pushing out her loads are amazing!! It's one thing hearing a woman groan and grunt and push a shit out, but to see their "shit faces" – man that's the part that always pushes me over the top!!! Then enjoy another two clips at home. The final clip is one she never sent she shot from New Year's Day. Enjoy as she talks about what she ate as she unloads that delicious sounding meal into the bowl!! And the facial Expresissions throughout this clip!! Priceless!!!
Introducing Ayanna!! Funky, Fresh, Here To Impress!!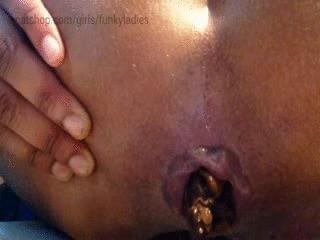 New Booty Monday is back!!! As promised, Ladies Keeping it Funky is back with another Rookie ready to get called for for Dooty!! Say Hello to Ayanna, this 23 year old hotty Was totally clueless about this world two weeks ago. Now after two weeks of recording she is here and eager to impress!!! Enjoy her maiden Debut ? or should I say DeBoo-Boo!! Enjoy as she takes a nice Reverse kanga at work, then spreads nice and wide from an up close asshole poop in the second, before a nice overhead clip in the finale!! Three great clips from this rookie who gets better and better by the clip ? look for more from her in the days to come!!! Enjoy this sexy young rebone sista?s nice little bubblebut letting out some impressive debut logs!! She is sure to be one of your favorites down the road!!
Ylafirstdiareeah
Yla is sexy running her first diareeah!