Lia Boo's Public And Private Pee
Lia Boo was another flagship model on Ladies Keeping It Funky. In fact she is probably Funky Lady #4. She along with Francesca Gabriella, Margarita, and Ms D are the reason why my store and site have expanded to the monster we are today!! She is also responsible for bringing Lil Stink's sexy ass into fold as the two were dating at the time! So while Lia Boo and I fell out after her 1st year (she always wanted more money than even Lil Stink and frankly, look at her, and look at Lil Stink!! LMAO Fuck That!!) her legacy remains into 2017. This is another classic one from the vaults as she pees at home then in public in two scenes. Another blast from the past to show where we been and where we at now!!
Crass Shit And Piss In Dog Bowl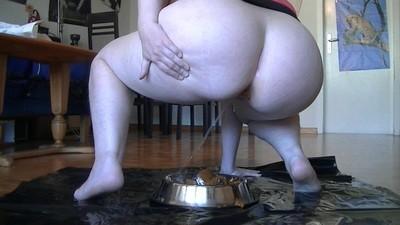 This is the first Time when i shit and piss in a Bowl!! A very very thick and crass long shit sausage!! Then i Piss over the big portion of shit,the Dog Bowl is full of my caviar and my piss!! Come on slave on my leash,i command you must eat all my big Shit Menue!! I hope for you that you can all eat slave ,otherwise you will experience what!!!
Extreme Close-up Shit
Well, you little pig, do you want me this time closely watch how I shit?