My First Peeing Clip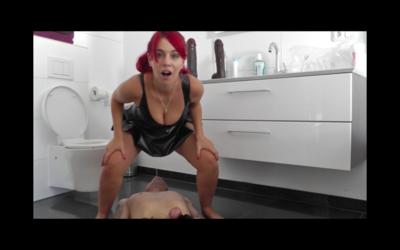 Since so many people have been asking me to do a pissing clip: well here it is! At first I pull off my panties and tie my slaves balls up. Afterwards I stand on him and pee straight in his face. He tries to swallow everything but its such a big load! When I have finished I sit on his face and use him as a toilet paper.
Exclusive Shit! Princess Mia – Humiliations Enema Pissing
Torture of my slave continuesI put the slave under my new toilet chair which the slave has created. I continue to teach the slave to eat my shit. This loser always resists, but today after I have shitted in his mouth, tightly sealed it with adhesive to make him swallow all my nectar, I pissed him in the mouth. And before that I have drunk a lot of cranberry lemon juice for the slave to feel "nicer".But that's not the end. I decided to clean my intestine by making an enema, and then everything came out of my ass straight on the slave's head. I wrapped him with a bag and left him for the night to weaken and torment. He is my thing! 🙂
Longwhitesatinpantyload
Naughty teasing with long satin panties ,fucking pussy with finger and pooping sexy!