Shitting In The Pants
In this video you will see close-up how I shit in the pants. This is fine, because my toilet slave can lick all and clear. Only lick my dirty ass, without touching. Do you like it?
Kinky Lesbians Mess With Food, Piss, And Shit – Part 2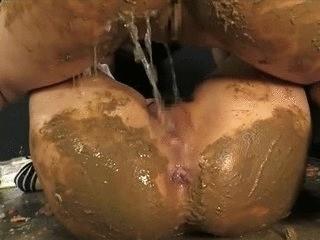 They finger each others assholes so they can easily shit all over the floor and each other! After smearing the shit all over their skin, they piss on each other and turn the shit into mud mask.
Wellness Scat P1
Today is the day for Wellness for Mistress Michelle and Lady Marie. The slave has to hold the plate, where everything ends up from the Ladies. The plate is filled with cornea, fingernails, dirt under the nails, spit and piss. Then Lady Marie pisses still in a glass. Now it is time to lick all the great things of the plate because Lady Marie has to poop. So there is a spoon and then the plates emptied from the slave who has to hold the plate, because Mistress Michelle has to pee. Then Mistress Michelle take a seat on the face of the slave and Lady Marie is pooping on the plate.