Oxana Panty Poop Addiction
Oxana is pooping nice shit in her new pink panties with addiction to her big butt!
Giantess Piss And Shit On Him
In this video a sexy giantess has a tiny man locked up in the bathroom. She loves to degrade and humiliate tiny men, so first she decides to pee on him, her hot steamy piss is enough to man the man squirm and yell, then she decides to let out some nice big stinky turds on him, covering his entire body with her stinky giant mess. This is a full animation, complete with music and sound effects and it's in HD!
Hastily Into The Loo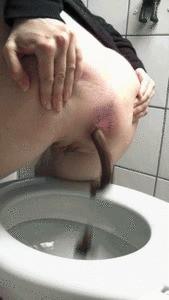 That had to be quick, so I fix hung over the toilet and just let drop it. Under moaning the shit came out, sprayed the toilet much, but we do cleansed it afterwards!