Zelda Putting That Ass In Motion!!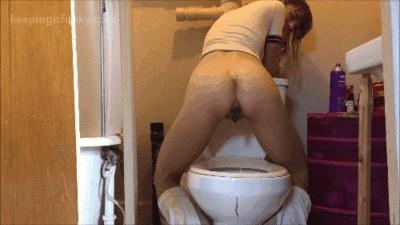 I swear is it me, or is Goddess Zelda's ass just getting hotter and hotter!! I can't take it!! She is easily in my Top 5 dead or alive – I love her classic look, the hairy bush she dons from time to time (I grew up on hairy snatch and still love that shit!!), and the spunky energy she puts into her clips. There are ladies that are honestly doing this just because I pay them, and then there are ones that do this because they are having fun!! Zelda is definitely the later, but she needs the former too!! lol Enjoy Two hot clips. In the first enjoy a nice closeup behind the bowl shot as she expunges a big load in the bowl. In the second enjoy as we get treated to a strip show by Zelda, as she shakes and wiggles that surprisingly plump little ass of hers before sitting on the toilet to unload. Then she shows her dirty ass and her paper as she wipes herself clean. Don't you just want to bite her?!!
Thick, Hard Turd
A thick hard sausage ball crawls out of my tight asshole. Do you like it, how to stretch my asshole and slowly squeezed through the brown chocolate?
Hot Blonde Pooper
She is doing a very long very nice looking turd on the floor!