Piss Party 03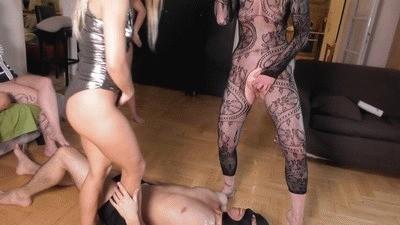 Seven girls like Princess Nikki, Princess Mini, Nomi Melone, Christina Ventura and Devil Girl use a young man as a human toilet.
Back In Action 1080p
After a long hiatus Mistress Dee formerly Mistress Missy is back in action and ready to use the toilet again. She starts off with some nice farts in its face before releasing a thick long monster log into is waiting mouth. After the huge log she makes the toilet lick her shitty ass clean. Will be available in 1080p HD 720p HD WMV, Ipad 720p HD and Iphone/Ipod formats.
Striped Panty Poop
I was laying around on the couch yesterday with a part of my favorite striped panties on. I started feeling the gas rumble in my tummy, so I turned on the cam so you could share in some of the good farts I pushed out! After a couple of nice panty blasts, the sh** was really knocking at the door, so I made a mad dash to the bathroom with the camera following my sexy round ass down the hall … once I got to the potty, I figured out why my stomach was rumbling so bad … watery, soft diarrhea came shooting out of my ass and you get to see it up close and personal. Once I get it all out, I tell you how I want my ass cleaned – with your tongue!