Chikako
Smooth pebbles precede a thick and solid poop! Close-up ending. Multiple angles (PiP).
Swimsuit Beauty In Shit Body Mask! – Part 1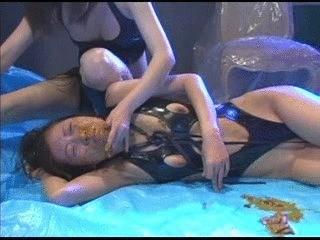 They make her squat on one of the chairs and make her poop out all the finger foods that she consumed. When a considerable puddle of shit is already on the plastic-covered floor, they make her lie down right next to it. They push her face on the shit puddle so it will get all over her face!
Milana Pooping In Panties And Smeared The Body With Shit
At the beginning of the experiment, the toilet slave had to lick the shit from Milana's body, but a strong stench rose and the experiment had to be stopped, the slave could not overcome herself and clean her mistress with her tongue.