Scat Slave Victoria In Black Pantyhose Encasement
It is necessary to say that I am very obedient bitch and do what my master says.Its present wishes were black pantyhose on my face and breasts, then sit on the toilet and do shit in green plastic bowl.Yes I did a pile of shit into a bowl, and other shit down the toilet.He said get down on my knees and put my head into the toilet and fucked me…Then I take shit out of the toilet and put on my face and taste the shit and suck his dick.Today is really a big pile of shit and so dirty game continues in the bathtub…I shit all over my body and I have to swallow my shit and have a full mouth and suck his dick over and over until cum on me..
Scat Lunch For Slave
This afternoon toilet-slave was waiting for his lunch nearly two hours under the the toilet seat, so I slap his face and spit into his mouth and tell him that now he deserves lunch time. He must lie on his back properly with mouth open directly under the toilet chair, so I can shit straight into his face. Next he has to put his head over the caviar ass and sniff it intensively. Then he can get an honor to lick the rests of caviar from his Mistress ass. I always make sure that all of the caviar is consumed and that at the end he nicely thanks his Lady for the tasty lunch he received.
College Girl Libby Returns 720p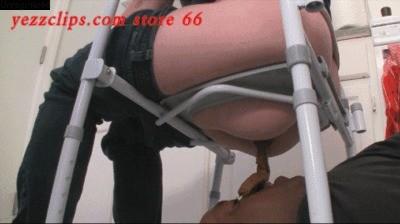 College girl Libby returns and drops a nice sized turd snake out of her pretty little ass onto the slaves face.As an added bonus we put the shitting action in slow motion so you could hear all the sounds and see the shit really bury his face. Will be available in 720p HD and Iphone/Ipod formats.