Toilet Slave Training Extreme! Shit, Piss, Puke, Enema, Spit And Sperm For A Slave Mouth!
Here a toilet slave had applied to me. I first tested the slave, if he is worthy to serve me! First, I pissed the slave in his mouth and he had to swallow my piss. After that he had to pump milk into my ass. After my intestine was extremely filled with milk, the slave had to squat with his mouth behind my asshole. Then I farted the milk enema out of my ass into his mouth. Of course he had to swallow the enema. My shit, I served the slave on a plate and he had to eat my shit. Then I took a glass and spat in this! Then the slave had to push his cock in my mouth. I then made a deepthroat until I had to puke and let my puke, run into the glass. The slave also injected his sperm into the glass. Of course, he had to drink this cocktail completely!
Anal And Pee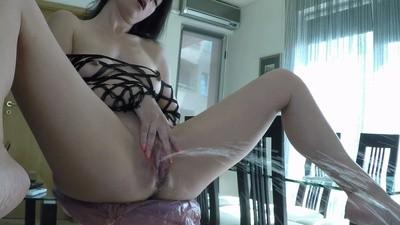 Hot anal dildo fucking! Julia is getting so horny and at the end she sits on a stool, opens her beautiful legs and gives us one of those beautiful golden showers! GoPro Hero4 excellent quality. Nice close ups!
Evil Sis Make Slave Eat Shit! – Part 3
They walk around him and lightly whips his body, making him beg for their mercy. The girls squat on his face again and shits for the second time, giving him more scat to swallow.