Diva Staxxx's New Dual Angle Funk!!
Diva Staxxx is back with some great new dual angle FUNK!! She decided to have some fun while at home for change – this woman is always on the move. But this time she decided to make a Dual Angle pile!! Enjoy as she begins with a little poot, then comes into her bedroom to setup for her shoot. Enjoy as she unleashed a FUNKY pile, taking a big dump from two different camera angles. This is a nice two for one from Ms Staxxx!!
Piss In The Face For The Slave
Today Mistress Giorgia Divina feels really bad and wants to show the slave all her domination in the most beautiful videoclip that has ever been done.The Mistress therefore decides that today she wants to piss in the face of the slave, without letting him drink, just for pure humiliation…The slave is drowned with a rag under his head and the Mistress begins with a abundant pee in his face, but the Mistress is not satisfied for so little, she takes his rag full of piss and puts it over the slave's face.Of course she begins to insult him and spit on him, then begins to press his heel on the slave's chest until he screams with pain. The slave stays in that position with the rag full of piss on his face for several minutes, in which the slave is left to suck piss off the rag.The Mistress begins to be satisfied with the treatment slaughtered to the slave and allows her to masturbate … but on the most beautiful when the slave is about to come, the Mistress stops him, making him moan in a wonderful tease and denial, this is repeated sometimes, until the Mistress decides that the time has come for the slave to reach the orgasm, of course always with the rag full of piss in the face.Wonderful Mistress !!
My Toilet Boy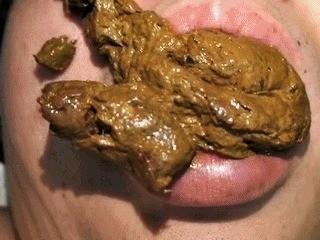 My toilet boy is fully trained, he knows I want his mouth whenever I have to go to the toilet as he immediately open his mouth wide open and I just have to get my funnel out and delivers my business. Today I happen to feel be having both, a piss and a shit… actually a load of shit! So he accepts it all. Whatever makes me happy. Can you make me happy?