Three Mistresses Piss & Poop For Masked Slave!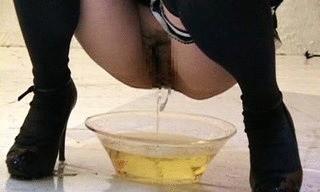 In the Mistresses dungeon lays a slave who awaits for his Mistresses. He waits for his Mistresses to give him food and drink. This masked slave was starving, his Mistress arrived with her friends and are ready to give him some delicious feces and golden water! The slave hesitated but because he was starving he gobbled the poop and drank the piss as if its the last food he will have. But of course it wont be the last poop and piss he will have. There will be more when Mistress pleases to give him her precious feces!
My First Scat Video!!!
Hi guys! I'm Mystress T and I'm new to scat, as a matter of fact this is my first scat clip ever! Don't you guys feel honored to be the first to watch me get dirty…anyways I start off by shitting in my panties, then I proceed to pull them down just a little so you can see the rest of my poo come out of my pretty little asshole. After pooping a big shit I then start to smear that stinky delicious poop all over my body…I know you wish you could lick my chocolate skin covered in chocolate 😉 Thanks for watching and look out for a whole lot more awesome clips! xoxo
Failure To Render Assistance
I have a walk with my girls Miss Jane and Jordan Star (alias Medina), looking for a quiet and sunny place. On our way, we find a pensioner, who is stuck in a hole and screams for help. So we took this opportunity and peed on him extensively. He can go on crying for help – we just left the old bastard alone. It was a very nice day!