Public Toilet Defecation!
While on her way to work, this sweetheart's stomach started acting up! She tries to hold it in, but when she could no longer resist, she proceeds to find the nearest toilet at her disposal! Luckily, there is a public comfort room nearby! So, she gets inside and then strips off her clothes! As soon as she is rendered completely naked, she squats on the toilet and then releases everything that her aching stomach can! At the end, she manages to release a couple of good chunks!
She Is Pissing On His Legs
She is pissing on his legs
A Few Days In Toilet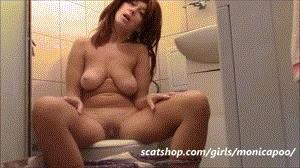 Three days of my dirty toilets. In the first video I'm naked piss and shit. In the second video, I get up in the morning with abdominal pain, I have constipation. The third video this relax in my toilet with pee and poop.