Wake Up Shit
I wake up in the morning and lounge in my bed. Slowly I already feel a little pressure on the intestine. I wake up my partner with a few strong blows on the butt and put him in our bed so that I can sit over him. First I let him lick my pussy and ass. He is allowed to get out some single pralines of my shit with his finger. They seem to taste it.But suddenly a big turd comes directly into his open mouth. Now he just has to swallow everything. Unfortunately, he is a bit slow again, so I help him with strong blows with paddle and whip. He has at least everything caught clean with his mouth this time without a mess.
A Goof-off Is Punished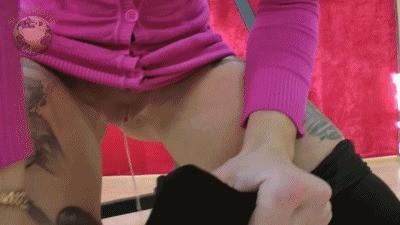 As one of my slaves is too stupid again, I punished him immediatelyhard! I shit on the ground and then let him clean that up with histongue. I helped him a bit in peeing onto his head! I thought, he doesnot have enough – so I bind his cock and balls and hang a bucket full ofwater on it. Then I order him to stand tall! To create enoughmotivation for him I additionally pushed some needles into his butt.
Shit Deal
Featuring Bit off more than he can chew and Back to eat more for one low price!!!