Husband Drinks Urine And Eats Feces! – Part 1
As soon as the woman arrives home from work, she is greeted by her husband who then takes off her lower garments! After which, he hands her with a plastic bag and has her urinate inside it! Once she is done, he repeatedly takes sips out of it! Eventually, he starts finger fucking her, both in the asshole and pussy! He then pulls out and licks his fingers clean! For the finale, he grabs her panties and smells it to his heart's content! On the following day, he greets her arrival from work with a naked body! Immediately, he rubs her clit to get her in the mood! Shortly after, he lies down on the floor and has her urinate directly into his mouth! When she could no longer release anymore, she serves him with her pussy to have him lick it clean!
Caviar Quiz
A new toilet slave has to do a little quiz game with me and Miss Jane. After he got a taste of shit straight from Jane's ass he should find out the taste what she ate yesterday. While he tries to answer correctly and to swallow shit we torment his ugly body.
Hot Poop Over Hot Chair Part 5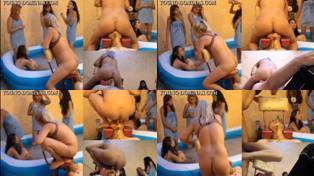 Girls uses Man