Mistress Lilly Preparing A Sandwich For You Then Shitting Again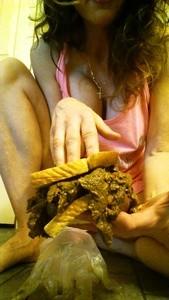 Mistress Lilly already is a good feeder and she get tons of requests to prepare some good food for her toilets. Today she doing 2 nice, kinky and bizarre movies while preparing a nice sandwich for her toilet. She playing with bread and shit and give tasks to everybody who want a piece of her sandwich ! Again, a nice movie with our Mature Lady Lilly !
2 Godesses In A Mix Of Bdsm And Toilet Full Hd Action
Godess Saida and Godess Anita in a mix scene. In the first scene, Godess Saida fucking my arse with her strapon in a dungeon then in second scene, Godess Anita in spandex tan leggings, sit on my face, suffocate me, then pee through leggings and shit through them into my hungry mouth. Best full hd scenes in a mix ! 2 real Godesses !
So Puke And Shit Is Disposed Of
Our toilet is down the hall, making it quite far away from our studio. My welfare and the welfare of my ladies is always the most important.Therefore we always have at least one trained servants in our vicinity, which can be used as well as toilet, if we have no desire to run down the long hall.Miss Jane had just the dog concocted to shit in his mouth, as Miss Cherrie, who was a little uncomfortable, came and was looking for a mouth to suck into it.Real handy to have such fully trained dogs. Beside it's fun, to use them again and again. Even if we had to persuade this dog with some emphasis to ingest of the shit and puke.