Mistress Gaia – Scat Hors D'oeuvre
My slave is in the dungeon and he's going to worship me. I have told him if he pleases me, he may be rewarded. I begin by getting him to lick my shoes. I have a riding crop in my hand to make sure he knows what I want. I then tell him to lie on the floor while I bind his hands and feet together. He's going to experience the luxury of having my beautiful ass in his face. I want him to enjoy eating my shit. As I sit over him I order him to open his mouth nice and wide. He must be ready to receiveve my scat. After I have made sure he has enough, I tell him to keep chewing, he must not waste any or I'll punish him. I notice his cock is erect, so I slip a condom over it. As he chews on my scat I give him a couple of lashes with my riding crop. As I take a tight hold of his cock, he begins to tremble. I know he is desperate to cum. However, not until he has completely finished eating all my delicious shit. While he enjoys chewing the last piece of shit, I give him a handjob telling him he can cum. Afte he's finished, I remove the condom and squeez his cum into his mouth. What a treat for my scat slut. He will surely remember his delicious scat hors d'oeuvre from Mistress Gaia…
Mistress Roberta -shitting On The Slave's Face In Leather -full
Today my toilet slave came and i have a new surprise for him. I took my ecological leather leggings on and i order him to worship them while i fart in his face and after a while i pull down under my ass the leggings and i put his head between the ass and the leggings to hold his head good near my ass hole so i can shit in his mouth .Having his head betwin my legs, leggings and ass cheeks is very unconfortable to shit in his mouth so i tell him to bring the potty chair so i can sit and shit well on him but because of that much trouble the shit won't come out by itself so i bring my enema and sqeeze it so i can clean well my ass into his mouth .I do one more enema so i can clean good all the shit remaining in my ass and after i empty the enema of water i take all the shit pieces and put them in his mouth and after i take some and put it on his chest and he gets on all fours and i order him to slurp and drink all the shit liquid on the floor .
Francesca's Human Fertilizer Pt. 2!!!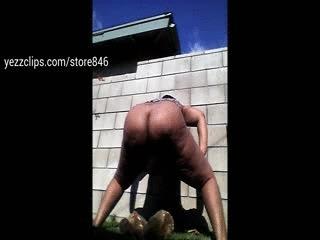 Francesca is back once again with another delicious outdoor adventure!! Enjoy as she 'waters' the grass in one clip and then comes back in the second with some of her Juicy Human Fertilzer!! Damn that ass was looking so phat and juicy in this clip!! and boy were some monsters coming out of it!! Francesca once again is back with another great outdoor clip!! Wonder if she plans on growing apples with the 'apples' that fell out her ass? lol only time will tell!!