All Shit In Your Mouth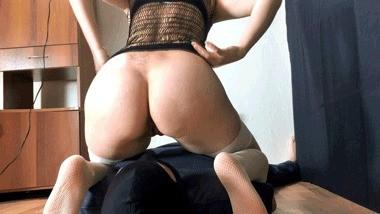 Today I have my slave on the floor and he's going to worship my feet. I command him to lick and clean my pretty legs in white stockings with his tongue, then I may reward him. He's does enjoy eating my shit, and also being under my sweety ass. After a while of licking my legs, I decide he deserves a little reward. So I sit on his face and get him ready, as he's going to receive my delicious shit. I change position and sit over him, and make him to get his mouth open wide and do not close it until I fill his mouth. As he receives my smelly shit I tell him that he chew and swallow it all. He's such a lucky slave to enjoy the pleasure of every day eating a lot of shit of his pretty mistress! He is my full toilet!
Glamor Scat Queens Have No Mercy
An absolute loser. Someone who never gets a real woman. A person who is actually superfluous in society. What can you do with such a man? Very easily. You use it as a toilet! Of course, it is a special honor for him that such sexy women in his mouth shit. A special privilege. He has to pay a lot of money! To be exact, his whole month's salary. Because pretty women would not even shit a creature in the mouth for free. But that is not enough either. He must also prove to the ladies that he is a working full toilet. Every gram of the precious shit must be swallowed down as proof of his gratitude. Again and again he is used as a toilet, as if it were the most normal in the world. Sometimes hot piss flows into his mouth, sometimes extreme shit. The whole under incredible insults and humiliations. Well, that's in life. The one enjoy the luxury, the others eat our shit!
Black Women Shitting
Bbw ebony and dark skin ebony take a poop