Horse Back Riding Princess Style I Part 3 Samantha
The Girls just need Amusement. So we had the Idea first we poop into his Mouth, then we move our Butt a little more backward to restrict his Breathing. That makes him Panic and he starts behaving like a Horse.Part 1,2 and 4 are the juciest onesEnglish Subtitles
Two Dirty Lesbians In Encasement Scat Show
Today, you will see two dirty sluts what they like shit and pantyhose. Pantyhose over your body and smell of shit is a wonderful combination.First, we'll consecutive piss…The first push of shit out my ass make Victoria.Denise will lick my ass from the dirty shit.Then change the position and Denise pushes out its beautiful aromatic shit….Want to know more? You must see this video.
Scat And Pee Pig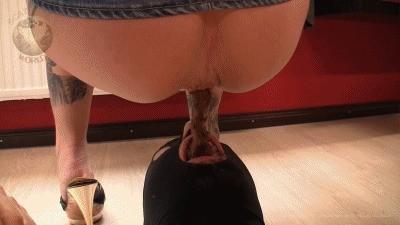 Miss Jane and I look at the mouth of a toilet slave closely. We both have much shit and want to see how much you can fit in his mouth before. First I shit in his mouth, then Miss Jane pees and shits a huge load into it. This living toilet has done a much better job than other slaves – nearly all was swallowed down. While Miss Jane was finished, I was bored so I'm aiming his balls and torture them. Yes – it should be like this, he has to swallow and thereby suffer pain. Nice! *laughs*